Continuing our Public Service announcements, the Ministry of Clever is proud to present a collection of some of the most clever online cartoons we can think of. Cartoons you didn't even know you missed (until you start reading).
xkcd
xkcd is a webcomic about romance, sarcasm, math and language. If you enjoy snide, clever stick people with profound truths, or maybe just quirky viewpoints, xkcd is a webcomic for you.
Created by Randall Munroe, xkcd has been recognized by mainstream media giants such as The Guardian and The New York Times. If you prefer ink on paper, make sure to pick up xkcd: Volume 0. The book has sold more than 25 000 exemplars. Even better, the proceeds were donated to a charity promoting literacy and education in third world countries.
Don't worry – while math and computer technology may be a recurring theme, you won't (normally) need a degree to get the punchline…
The Doghouse Diaries
Over at the Doghouse Diaries, Ray, Will and Raf took their best shot on creating a web comic commentary on "the love life of sandwiches". While they might fall slightly short of their goal, they make up for it with stick people, dinosaurs, bizarre situations and an array of surprising, profound insights that make the day much better.
Their look on life can definitely brighten your day, so make sure to visit them on Mondays, Wednesdays and Fridays.
Questionable Content
Questionable Content, or QC, is unquestionably a charming little story. Following the life Marten, Fay and Dora – as well as friends, family and other patrons at the Coffee of Doom. Uniquely for a story where antropomorh computers are commonplace, QC is a character driven affair and definitely worth spending an afternoon on.
QC recently passed comic strip number 2 000 and has been a great success for creator Jeph Jacques. Jeph quit his dayjob and is now living entirely off his online comic strip.
And a little tip: Defeat the Awkward Zone with Maximum Ridiculosity.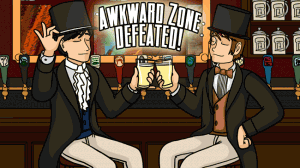 Subnormality
A recent discovery for us, Subnormality depicts an absurd and sometimes misanthropic world. Winston Rowtree (the creator) is verbose – but if you don't mind reading a little text in your comics, you're sure to get a kick or two out of this strip.
The gigantic female Sphynx may eat humans, but that doesn't mean she isn't considerate: she takes great care, making sure her snacks are eaten quickly and painlessly.
Other characters include the Pink Haired Girl, struggling in a careless world, and a group of incompetent time travelling nazis, trying to kill Roosevelt, or generally hinder the (past) war effort of the allies.
Daisy Owl
Daisy Owl is the story about Daisy and her brother, their adoptive owl father (Mr. Owl) and his best friend Steve the bear. Unfortunately there doesn't seem to be any new updates recently, but that doesn't mean you can't grab an afternoon or two of laughs. Daisy Owl comes highly recommended.
This is Indexed
Perhaps stretching the definitions of a cartoon, This is Indexed offer insight into life's peculiar little truths unlike any other web page we've seen. Using graphs and Venn diagrams in ways you never even thought possible, this is a little gem that proves that math and logic can be used for something fun and not merely for dreary, boring and useful stuff.
Give it a try – you won't regret it!
Devilbear
Among all these great, but often intellectual and well – grayscale – comics we bring you a decidedly colourful and sexy cartoon. If you're into that sort of stuff (colours and sexiness), of course. Devilbear tells the story of Bearalzebub, the leader of toy bear hell (where all the bad toy bears go, presumably) and his seven scantily clad Daivas – one for each of the deadly sins.
If cleavage and sexual innuendo, coupled with a lobotomized zombie Winnie the Pooh, is your thing – go for it! Be warned though: if you find toy bear violence and Care Bear parodies distasteful, this might not be your cup of tea…
We hope you've enjoyed our selection of clever cartoons. If you have any comments or suggestions, feel free to share them with the world in the comment section below!