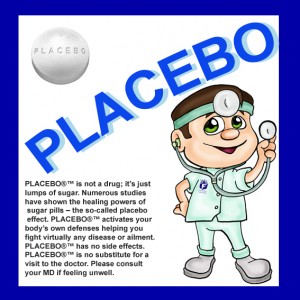 The Ministry of Clever is proud to present a great new product from our sister Ministry of Medicine: the PLACEBO®™ pills. The placebo effect have been known by doctors and medical researches since the earliest days of modern medicine. Time and again it has proven effective against a large number of diseases and ailments including pain, stress, depression and ulsers. Now you too can take part in this medical revolution! PLACEBO®™ pills are not a substitution for treatment by your medical doctor, but it may be a good addition. Ask your doctor about PLACEBO®™ pills today, and see the difference for yourself!
Our newly launched line of PLACEBO®™ pills are based on the placebo effect. Using sucrose, a chemical found naturally in many foodstuffs, the PLACEBO®™ pills activate your body's own immune defences – helping your body help itself to health.
How is this possible? Well, scientists can't explain exactly why or how, but the placebo effect is well documented in a large number of studies. In fact, patients treated with placebo pills regularly have shown much better results than untreated patients – sometimes even rivalling expensive, new drugs, without the nefariuos side effects!
The PLACEBO®™ pills offer a long sought after alternative to expensive, dubious "alternative" medicinal schools. Just consider: they can't prove their effectiveness, even after decades of research – we can prove our effectiveness, and at a small fraction of the cost! "Alternative" treatments such as homeopathy, crystal healing, bioresonance therapy or quantum medicine are all unproven – in some cases after hundreds of years of experience. Don't be a fool wasting your money on a pipe dream. We admit that we, just like these fraudulent quacks, are after your money (After all, we need to feed our children and buy them a Nintendo Wii too!) – but we ask for a reasonable amount of money for a treatment with proven results! You may buy a full theraputical kit for only $3.99. Nobody will be able to beat this price!
PLACEBO®™ pills have a mild sugary taste. We can guarantee this will be a pill both you and your children can swallow easily! We can also offer a variety of other tastes, just ask us for the alternatives!
Side effects: PLACEBO®™ is one of the few drugs out there with virtually no side effects. Please note that excessive use of the PLACEBO®™ pills may cause some weight gain – if this happens to you, just cut down slightly on your dosage. Also, PLACEBO®™ may be dangerous for some select ailments, such as diabetes. If you have any preexisting conditions that limit your regular diet to exclude certain products, please contact your doctor before using PLACEBO®™ pills.
Disclaimer: If you're feeling sick, disabled, dying or otherwise diminished – go see a doctor at once! Don't use PLACEBO®™ as an alternative to actual medicine, only a supplement where real medicine doesn't work better. While PLACEBO®™ rarely have detrimental effects, do take care not to over-medicate yourself! The Ministry of Clever is a satire site, not a healthcare expert. If you lose you're worse off after listening to our advice, you're a fool – a fool that hereby waives any and all rights to any kind of reimbursement – monetary or otherwise.