Street art gems
If you use StumbleUpon you've probably collected a few gems on your profile. Today I'll share some of the more spectacular street art I've found here. I'm about as far from an expert as you can come, but I know I like this when I see it…!
French origami street art
The Artflakes blog shared one of the more unique street art I've seen recently. French artist Mademoiselle Maurice has brought colourful origami art to the streets of Paris. Check out the origami project here and her webpage here!
Stunning social commentary by Banksy

Streetartutopia shared this blogpost with striking works of art from Banksy. It is well worth a look!
Banksy is the pseudonym of an English-based grafitti artist and political activist. The first comment on the linked blogpost, by a Ariel Dennis struck me as so very, very true – and a good illustration of Banksy's infamy:
first day of Advanced Art, my teacher said "i bet none of you know an artist who is currently alive" I Raised my hand and said "Banksy" he shook his head and said he wasn't an artist, that when I knew He wasn't a real art teacher.
A stunning street art anthology!
The kind people at Streetartutopia have shared another collection with 106 stunning street art masterpieces from 2010. It is well worth a look!
Surreal street installations

Mark Jenkins has shared a collection of surreal street installations with us at this page. Expect the unexpected!
Strong women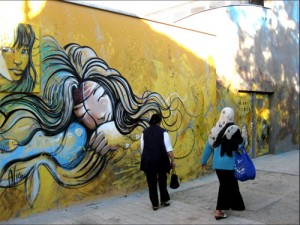 Italian visual artist Alice Pasquini (or AliCè) has worked with clients such as Nike and Microsoft. She prefers working with city walls and has a striking and colorful style. According to her own bio, she is
 particularly interested in the representation of women in art and the desire to show strong, independent women in a way that differs from the highly sexualized image of femininity that is typically seen in society.
Definitely two thumbs up! Check out more of her art here.